ONLIEST SLOW
イカ&魚を狙う両得スタイルで話題のOnliest(オンリエスト)にスローフォールモデルが追加。
イカ&魚を狙う両得スタイルのコンセプトが魅力のOnliest(オンリエスト)にフォール速度は約6秒/mのスローフォールモデルが追加されました。従来よりもスローにフォールすることでターゲットにしっかり食わせることが可能に。また、リアルで魅力的なカラーリングも全て刷新。全10カラーのうち4カラーはラトルモデルを採用することでより幅広いアピールが可能。釣り場でシチュエーションに応じて選択できるよう最適なサイズのトレブルフックも最初から付属しています。
A slow-fall model has been added to the Onliest, which has become a hot topic for its dual-purpose style of targeting squid and fish.
A slow-fall model with a fall speed of about 6 seconds/m has been added to the Onliest, which has an appealing concept of a dual-purpose style for targeting squid and fish. Falling slower than before enables the angler to get the target to bite firmly. In addition, the realistic and attractive coloring has all been renewed. Four of the 10 colors are rattle models for a wider range of appeal. Treble hooks of the optimum size are also included from the start for immediate use depending on the fishing situation.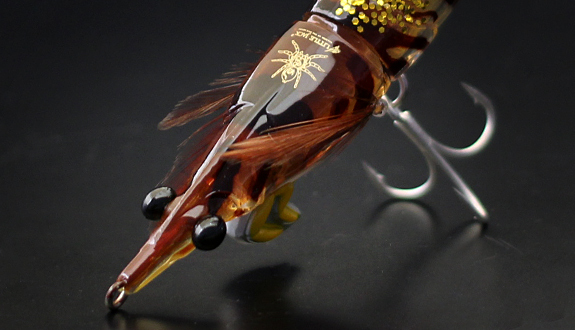 生命が宿るリアルアイ&キレを生むスリムノーズ
軽快なダートアクションを再現するために水流の抵抗を最小限に抑えるスリムノーズを採用。リアルアイも接続部を最小限にする事で不要な抵抗を発生させません。
Life-giving real eye & slim nose for sharpness
The slim nose minimizes resistance to water currents in order to reproduce a nimble dart action. The real eye also has a minimized connection to avoid generating unnecessary resistance.
布巻きの抱き心地を再現したクリアボディ
ボディ表面に無数の凹凸を再現するため、ラメ塗装とボディにシボ加工を採用することで布巻きに近い抱き心地を実現しました。
Clear body that reproduces the comfort of cloth-wrapped hugs
In order to reproduce the countless unevenness on the body surface, a lame coating and a grainy finish on the body are used to achieve a hugging comfort similar to that of a cloth roll.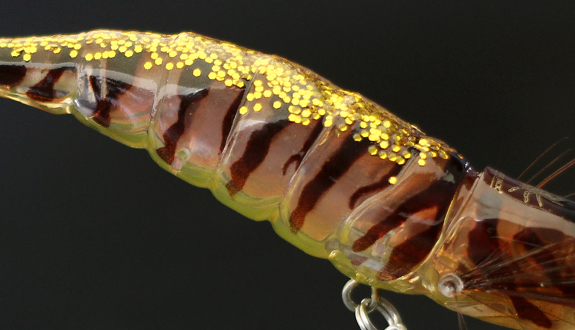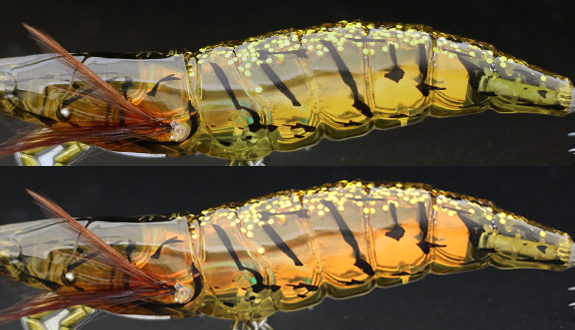 広範囲へのアピール可能にする半透明リフレクター
クリアボディを採用することにより、内蔵された半透明リフレクターの効果を最大限に活かすことができます。
Translucent reflector for wide area appeal
The clear body allows maximum use of the effect of the built-in translucent reflector.
各色にケイムラかグローを塗装しアピール
ほぼ全てのカラーにケイムラかグロー塗装を施す事で、より幅広いシチュエーションで効果的なアピールが可能です。Appealing by painting each color with either Kaymura or glow
Almost all colors can be painted with either Keimula or glow paint for effective appeal in a wider range of situations.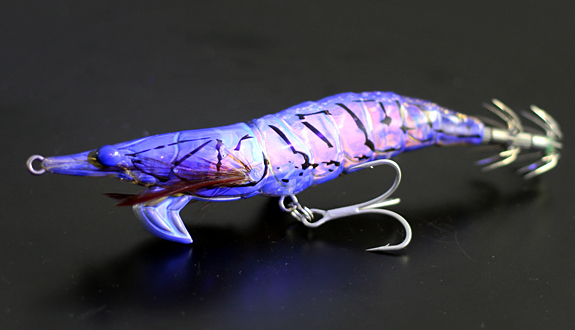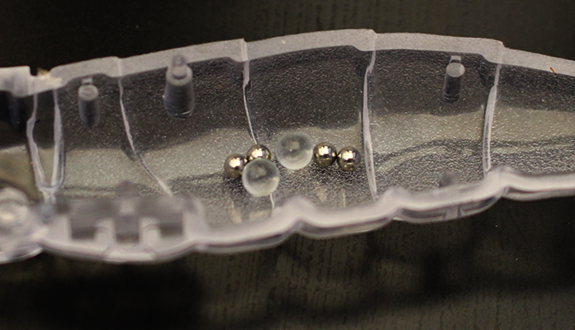 異なる素材が奏でる複雑なラトル音
一部のカラーで採用したラトルは、ガラス玉とステンレスという複数の素材を採用することでより厚みのある音色でより広範囲のターゲットにアピールします。
Complex rattle sound played by different materials
The rattles used in some colors have a thicker tone that appeals to a wider range of targets by employing multiple materials – glass balls and stainless steel.
様々な機能を凝縮したオリジナルシンカー
飛距離を生み出すための全体の重心、理想的な沈降角度の演出、ボトムに着底した際の引っかかりにくさなど、様々な機能性を考慮して設計されたシンカーは、見た目にもこだわりターゲットに違和感を与えません。
Original sinker with various functions condensed
The sinker was designed with various functionalities in mind, such as the overall center of gravity to create flying distance, the creation of an ideal sinking angle, and the resistance to snagging when it lands on the bottom, all of which are designed to look good and give the target no sense of discomfort.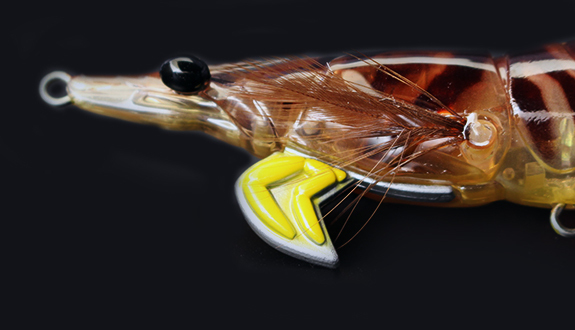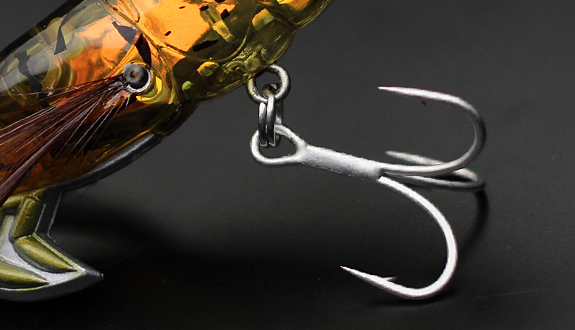 イカと魚を同時に狙えるようにベリーアイにトレブルフックを装着
ベリーアイに装着されたトレブルフックで、よりターゲットが多彩に。またカンナに掛かったイカを追ってくるターゲットのキャッチ率も向上。
Treble hook attached to the belly eye for targeting squid and fish at the same time
The treble hook attached to the belly eye allows anglers to target a wider variety of fish-eaters. It also improves the catch rate of squid chasing after the canner.
BKKフック&カンナを採用
刺さりと強度で信頼性の高いBKKフックを採用しています。
BKK hooks and canners are used.
BKK hooks, which are highly reliable in terms of sting and strength, are used.