Captcha50HG、当社のスロージギング専用リールCaptcha 60HG、Captcha 30HGに続いてCaptcha 50HGが誕生しました。
コンセプト:「軽量パワフル」・「軽さ」に対する考え方、まずスロージギングにおいて重要な要素はタックルバランスだと考えます。
この釣りに使うPEラインは多くの場合4号までです。魚の走りを強靭なドラグと太いラインで止めて強引に引き寄せるセッティングではありません。
タックルバランスを考えたとき、ラインの強度に対して過剰な剛性をリールに求めていることに私達は疑問を感じ、余分な肉をそぎ落としたアスリートのようなリールを作ることに着手しました。軽さの秘密は構造の簡易化と材料選定です。日本の経済成長期に製造された機械が今でも日本の工場で稼働しているのを見ます。そういった機械は多くの場合非常に簡易な構造をしています。リールにおいても同じように部品が少なければトラブル発生率を大幅に下げることが出来ます。通常1つの機能を満たす為に部品が3個、4個必要とする機構であったとしても
当社は例えば2個の部品でそれ以上の機能を発揮するということをテーマに開発を行い、技術的な知見から生まれるアイデアでそれを実現していきました。
一つ一つの部品についても安易に選定せず、使用できる金属の中からより強く、より軽い材料を求め、テストを繰り返しました。
これらの過程を経ることで当社のリールは必要な強度を満たしつつ、軽量化を実現することができたのです。
・「パワー」に対する考え方。パワーの源は設計に有る。と私達は考えます。
ギア比、スプール径、ベアリングのサイズ、ハンドル長がバランスよくマッチすることでパワーは生まれます。パワーは回収時の負担を軽減するだけでなく、ジャーク時のジグに伝わるエネルギー、つまり動きに現れます。既に発売中のヘビー級60HGシリーズもスーパーライト級30HGにも共通項目としてこだわったのが、このパワーです。もちろん50HGも同様にこだわりをもって設計しました。
・captchaの使い分けについて当社のリールは基本的に水深によって使い分けて頂ければと考えています。まず水深100mまでならば魚種問わず30HGをお勧めします。一見おもちゃのようなボディサイズに頼りなさを感じるかもしれませんが、突然の青物ヒットにも余裕を持って対応出来るパワーを秘めていることを感じて頂けるはずです。200m以上はヘビー級の60HGの出番です。深海や大物狙いに求められるラインキャパ、回収能力、巻き心地。を全て備えております。最強の大物用かつ深海用大型リールだと自負しております。50HGが最も得意とするレンジは100-200m。この釣りで最も攻める機会が多い水深ではないでしょうか。最も多種多様な魚種がアタックしてくるレンジでもあるが故に、どんな魚にも幅広く対応できる能力が求められます。50HGは同クラスの中型リールの中では抜きん出た能力を備えています。コンパクトなボディ、PE3号が600m収容できるラインキャパ、徹底してテストしたギア比とスプール径のバランス調整により実現した巻き心地。ツインドラグが滑らか且つ持続的なドラグ性能を発揮します。
例えマグロがヒットしても同クラスのリールよりかなり短時間で仕留められることでしょう。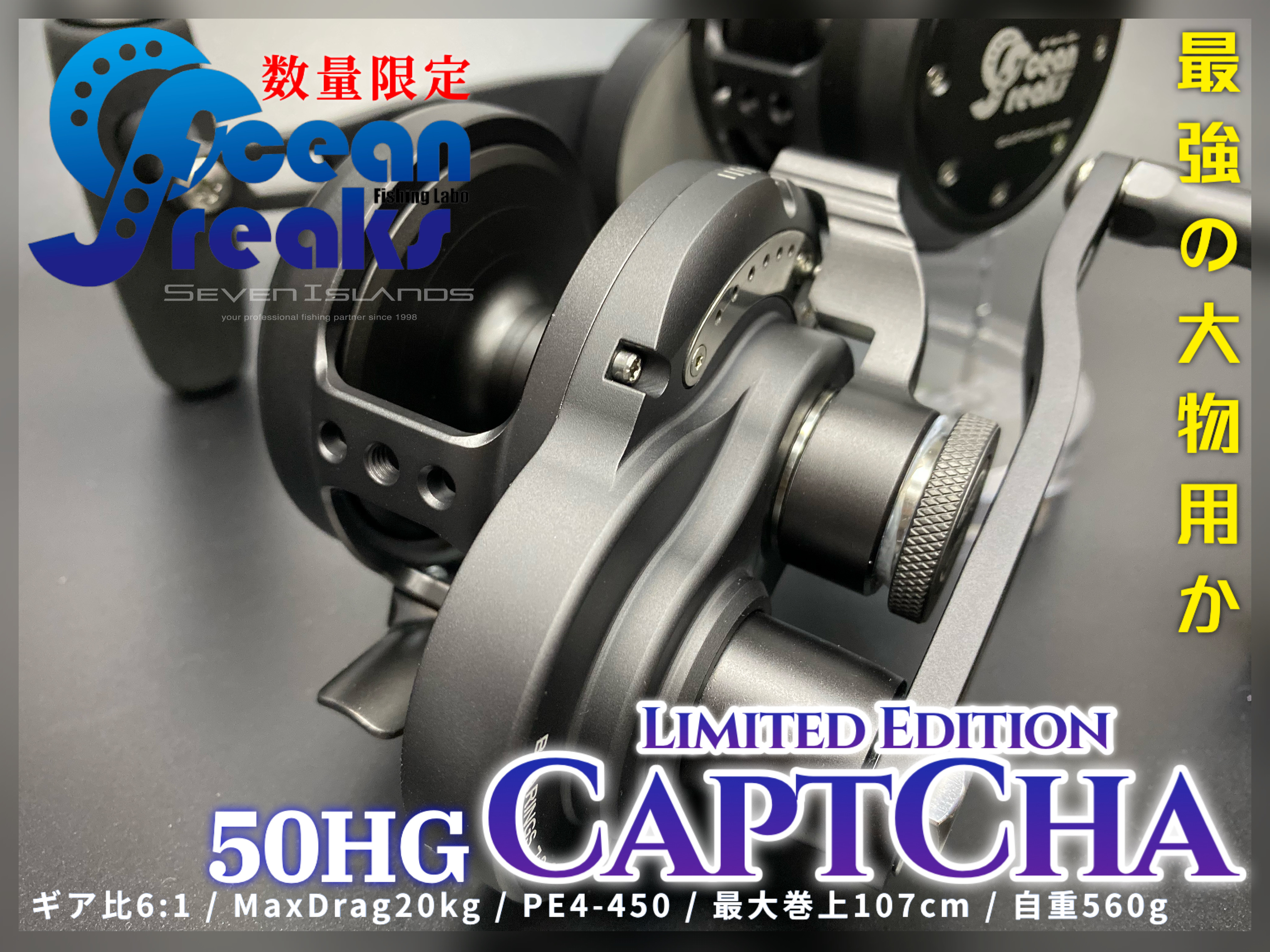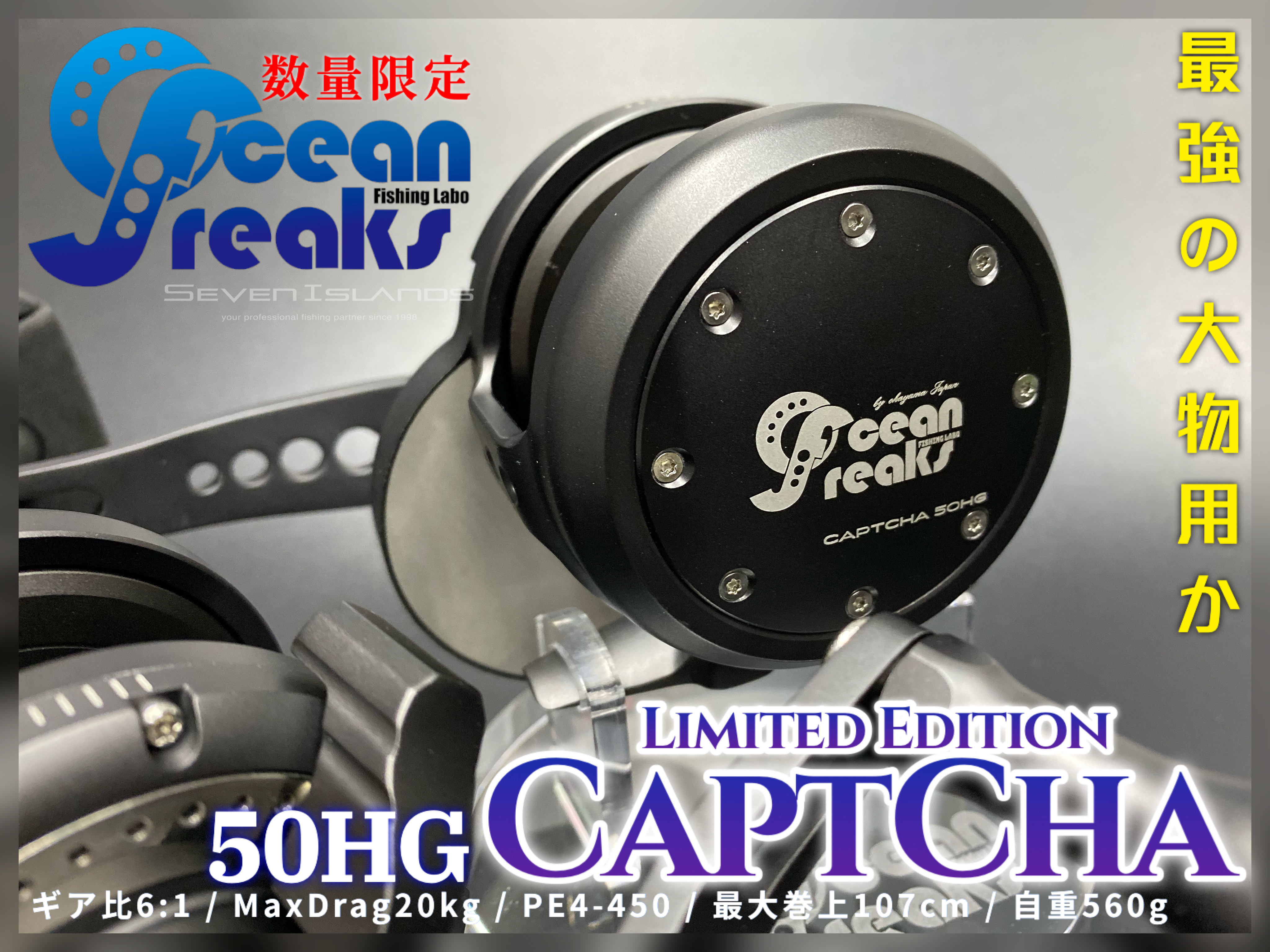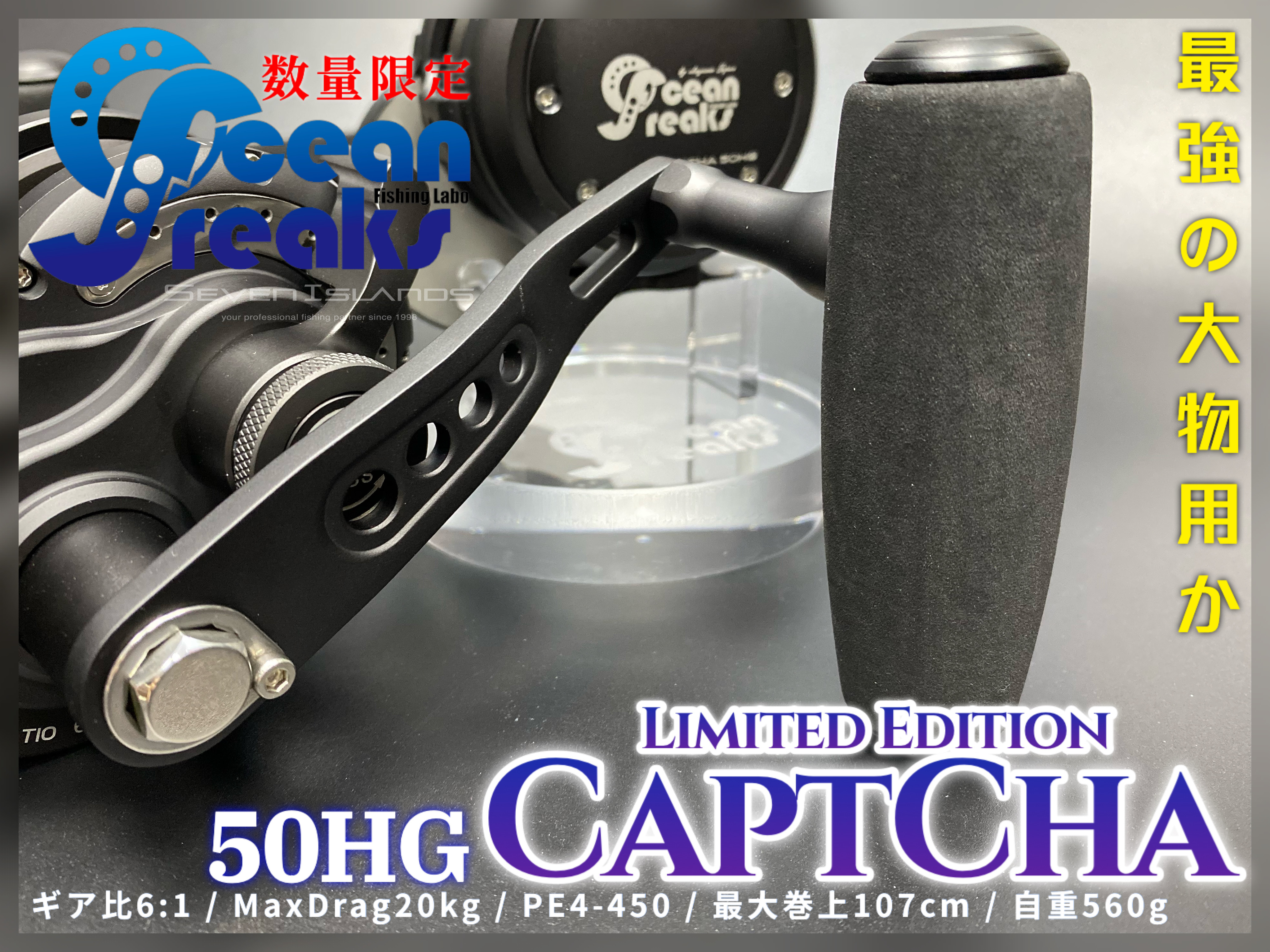 Captcha50HG
Following the successive apprearance and overwhelm acceptance of Oceanfreaks Captch60HG and 30HG by the slow jigging enthusiasts in Japan, we will soon adding a new member in our Captcha family in the form of Captcha 50HG come 2018 Autumn. Why did we decide to introduce 50HG into the family? Below are the reasons:-
First and foremost, our slogan for Captcha series is 'light but powerful'. The resaon for Captcha to be light weight is because it is a slow jigging dedicated reel. Tackle used for slow jigging must be balanced, so there is no purpose to increase the reel tougness by adding thickness and weight to it. Normally we will use maximum PE 4 braided line for slow jigging, so if we retrrive the line forcefully during a fight with a moster, our braided line will break off before we damage the reel. Therefore it serves no purpose to design the reel frame to be over strudy and stout.
The material selected for our reel frame is aluminum. With unique processing tehnology, our reel frame display better quality and toughness. In addition, our reel have a very simple internal structure. This is done not for cost reduction, rather we realise that the more parts are used to build a reel, the higher chances malfunction will occurred on the reel. Other brand may require 3 to 4 parts to build the drive gear, but we have managed to build with 2 parts to achieve the same, if not better drive gear performance. This is achieve through hardwork and dedication on researce and experiment!
So what does it means by "powerful"? Powerful in this regards refers to the design of the reel structure, gear ratio, spool diameter, bearing sizes and handle length. By matching these components cleverly, we have produce a reel that is effortless but high in line retrieving capability. High retrive capabiity will ensure that energy will pass on to the jig to make it dance lively, effortless will reduce our physical stress when jigging.   
Although 60HG and 30HG differs in their size, but they both possess the same features mentioned above. The new 50HG is no exception!
So when and where do we use these reels? For 30HG, its line capacity is 600 meter of PE2. Based on this, we can determine that it is best suited for any form of slow jigging within 100m water depth. Should we hooked up big fish in shallow water, 30HG have enough capabiliy to fight and land it. 60HG is best suited for water depth above 200 meter. Its capacity can reach 1200 meter of PE3 line. Due to its large spool diameter, 60HG has higher line retrieve capability. Lower gear ratio ensures effortless line retrieval. Retrieving heavy jig in deep water is easier compare to using other brand. High drag and torque power lets you conquer your monster fish with ease.
50HG is consider the lightest and strongest among the middle class range. The main battle field for slow jigging is at water depth 100 to 200 meter. This water column lives most monsters and you can rely on 50HG to deliver the results you want.
50HG is design for you to hold comfortably. It holds 600 meter of PE3 line yet its self weight is only 560g. More important is 50HG is double drag. The advantage of double drag is that drag force is distributed equally and can last longer. Therefore even if your opponent is yellow fin tuna, 50HG has enough line capacity to meets its crazy run and enough drag to wear it down. However, although 50HG is an outstanding reel, it is still in different class as compare to 60HG. When fishing in monsters ground at 160 meter above, 60HG is still a better choice for its larger spool size and higher drag, which results in longer line retrival per crank and power to battle stubborn fish.
We should not judge a reel by its look. A reel should be judged by its internal functions' performance. A reel's performance is derives from the hard work of research and development of slow jigging professional angler. The determination and selection of reel functions critical for slow jigging is the results of  detailed research and development efforts. We are confident because Oceanfreaks is slow jigging dedicated brand from Japan.
●ギア比 : 6:1
●糸巻量(m) : PE 2号-900 , 3号-600 , 4号-450
●ハンドル長(mm)  : 95
●最大巻上長(cm)  : 107
●ボールベアリング  : 7+2
●重量(g) : 560
●最大ドラグ力(kg) : 20
●スプール寸法(径mm/幅mm) : 58/28